Wow that's an interesting heading isn't it. Well even though I have basically only had one hand for the past week I managed to get a new kit out too. I woke up on Saturday Morning with a sore middle finger on my left hand (I'm right handed) by the time night came and it was time for bed I was in so much pain that I couldn't sleep and ended up taking panadeine forte at 3 or 4am, which gave me two broken hours of sleep. The next night I didn't get more than a few hours either after being to a DR and her telling me not to use it and take panadol for the pain, she didn't even lay hands on me to see if it was different to the other hand. So no more sleep that night than the night before though I did buy some anti-inflamatories which didn't do much for it. So Michael, who had been working for those two nights came home on Tuesday morning and took one look at my very swollen and red hand and took me to the other DR (HIS) and we were sent immediately to get xrays plus he put me on antibiotics as he suspected viral arthritis (?) which it ended up being cause that night the pain had eased after just 12 hours on them and the next day it was starting to go down, and today it is verging on normal looking, though still a little swollen and red and warm, but not hot like it was. I never realised how much I use my left hand or both hands for that matter, till now. I do hope this doesn't happen every time I get a virus.
So that aside I have got a new kit out and a freebie for you to have a taste of it :)
It's called Picture the Past and it has 24 Papers and over 50 elements, so plenty to keep you scrapping.
Check it out below and the freebie will be below that, enjoy. I did a page with my niece's cousin, William.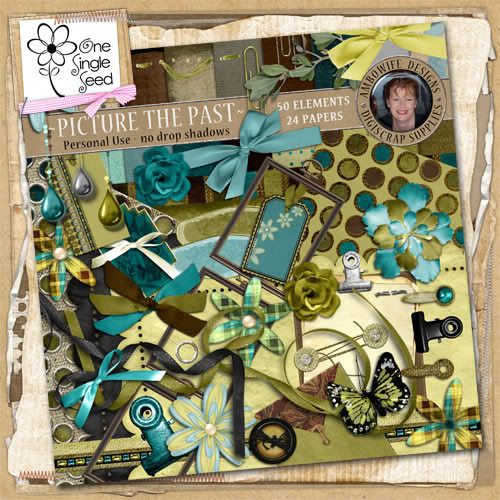 Download Here
Here is a two page layout I did with my new kit too,
This is Michael on our anniversay in the Huon Valley where we went for a drive to spend the day together, isn't Tasmania Beautiful!?

Okay well that's it for now, I am keeping busy and SAS is still jumping with the Makeover contest, Sherah's design won our Site Design contest and we are currently in the voting stage of our CT SPOT contest so if you are over there go vote for your favourite layout, the winner wins a CT spot at SAS. And our Blinkie contestants are working hard making banners and blinkies with the new site design at the moment, they are coming up with some awesome things over at SAS, check it out.
That reminds me, here are my layouts for the CT at SAS this week, I did some for Julie C, Piggyscraps and Skrapper Digitals. Such fun scrapping with these kits!!

Julie C Sunday in the Park Kit