Just went up to visit a friend for a few nights. She has moved away from the hustle and bustle of city life and retired to a lovely area up at Port Stephens. Very pretty!! You'll probably see some of it shortly as I took 75 photos, it was just so beautiful and the beach just 5 minutes walk away from her place!! Oh well One day it will be us I guess!!

Anyway, I also got a new toy!! I know, you're all thinking, "She's always getting new toys!!" But this one I am using to enable everything to run smoother!! The computer scrapping side of things I mean. I got a 500 Gig external Hard Drive!!! Woo Hoo. I have put a hell of a lot of stuff over onto it from the laptop as well as my CD's and DVD's and I haven't even touched the sides of it, it's massive!! So there is nothing on my 2nd Drive on the laptop accept my Photoshop CS2 and plugins so that is running really fast, for now anyway LOL!!


I did some scrapping too, quite a few over the last week actually. Terrell has a new set of 4 Fairytale Kits and also a 4th July freebie running on her blog so if you want that you better keep an eye on her blog for when each part comes up.


Doreen is finally the proud parent of her Scooter that she has been coveting for ages. She just has to wait for her Hubby to come home and attach all the bits so she can start riding it!! So exciting to see her so enthusiastic and happy about life at the moment.
Michael has been off with only one night overtime shift so he is off back to work tomorrow. Ironing is done, and the roast is baking away in the oven, with Hassel Back Potatoes, Baked Onion, Brussell Sprouts, Carrots, and Broccolini and corn on the cob. LOL I think I might have gone overboard with the vegies but what the hey!! It's gonna be so yummy.

Okay here are some layouts.
This one I did with Terrell Sanzone's Posting Bonus, isn't Chris funny the way he poses.
The layout below I did for a challenge where you had to use this layout with the circles etc. The flowers and butterflies are from Booland Designs, pretty huh!!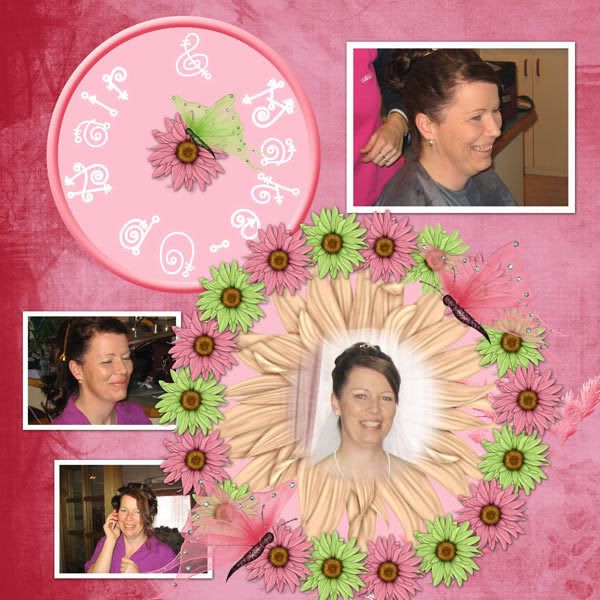 Ah Summertime, the kit by Terrell Sanzone, I just love playing with that kit.
This one I did for a challenge where you had to scrap a favourite flower from your childhood, bet you can't guess what mine was LOL. The Dandelion Brush I used on this layout is from Obsidian Dawn, lots of neat stuff on her site!!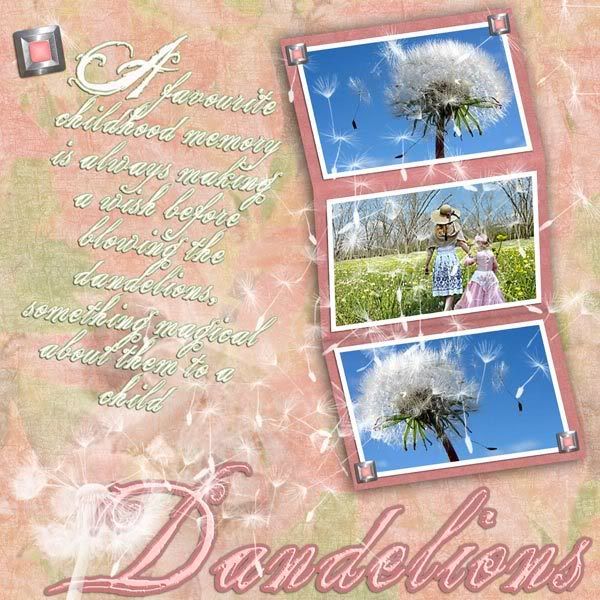 This one is a mash of lots of Terrell's Kits. I had fun doing this pic of Mum and Gabriella at Bonorong Park.
This is My American Boy, used the lyrics from the song that's pretty big at the moment
The kit is the freebie that is available now on Terrell Sanzone's blog. So Run don't walk over and grab it while it's up. Oh and don't forget to say thanks and leave her some love.
LOL, did this one cause Michael took this pic of an ambulance outside and with him doing what he does I just couldn't resist. Gave me the oportunity to use Ambulance Shotgun Font and my blood spatter font LOL. Oh and the kit is Scarlet Letter by......Me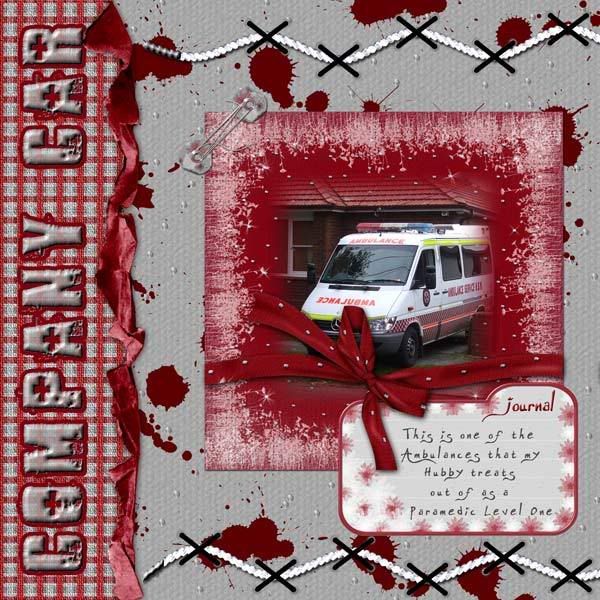 Here's another with the freebie from Terrell called Happy Birthday America. This is one for my Mum!!
Me and My big brother Steven. This is using Summertime, gotta love that kit, can't you tell LOL.
Here's my cousin. This one is for a challenge over at Rakscraps. The flowers in this layout are by bunchie!!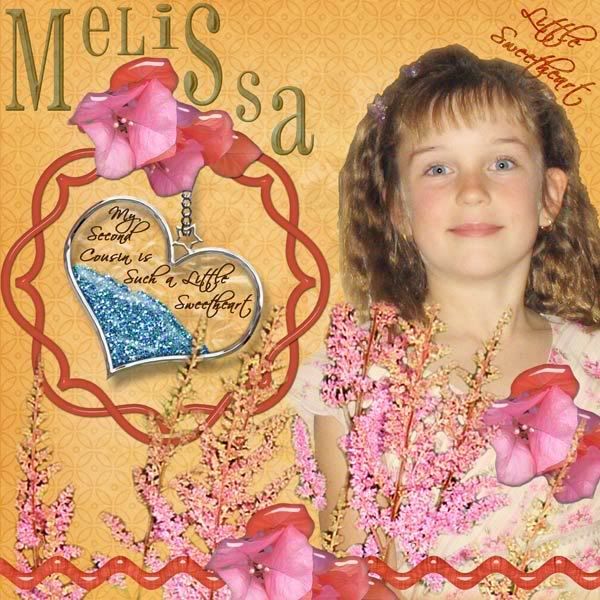 Here it is the new kits from Terrell, well two of the sets at least. And it just screamed for me to make someone a fairy and who better than my niece!!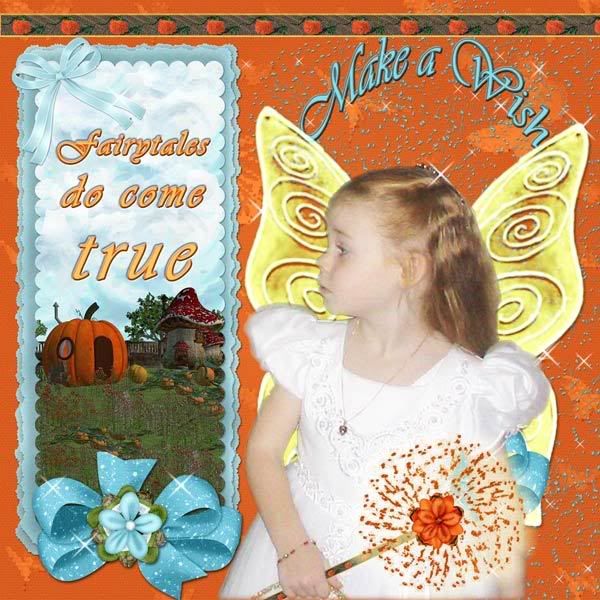 This is set 2 from the Fairytale kits and the pixie and dust are brushes I used from Obsidian Dawn. Oh and that's us on the dancefloor with Nick Cave's Into My Arms playing with Michael singing it to me!! So Romantic, sigh!!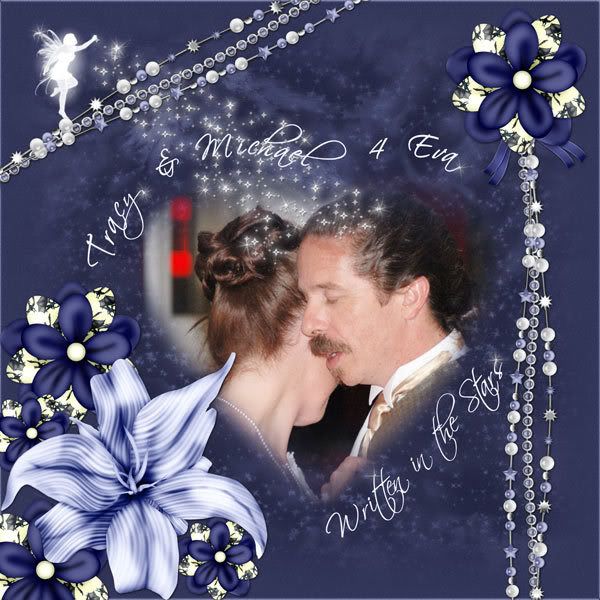 This is set one. I did a funny layout with it. Can you spot anyone. Bit of a where's wally isn't it LOL.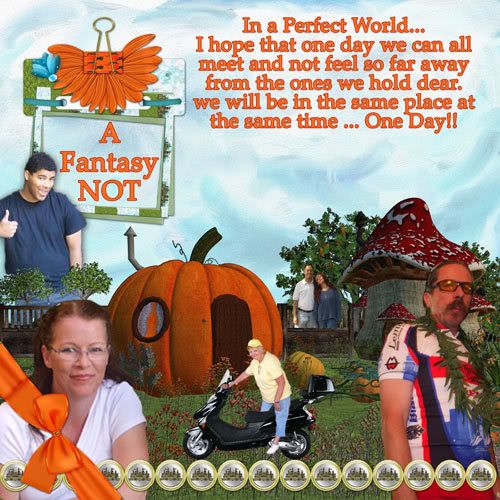 Ahh, another with Summertime. Look at that love sick groom blowing in my ear!!! surrounded by my family no less!!!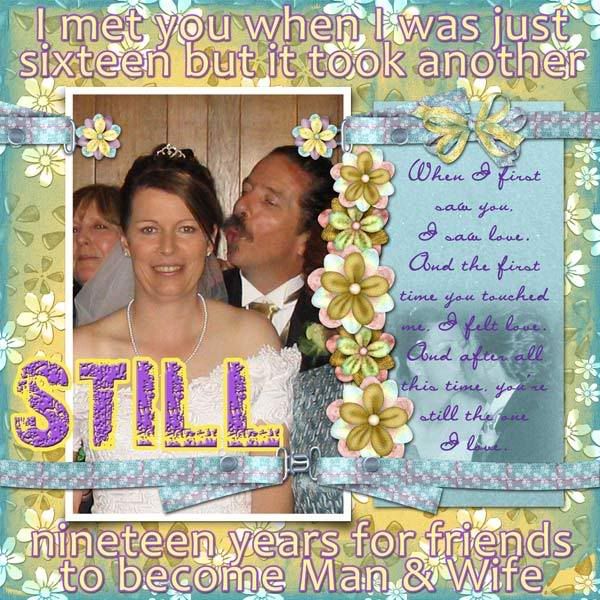 Okay well I am sure you are worn out from all the layouts, I really must blog more frequently LOL. Have to take a hint from Michael and get on daily Hee Hee!! By the way if you visit Michael's blog
http://taztheambo.blogspot.com/
leave him some love, he's not getting any feedback on his blog and feeling a little deflated by the big numbers of visitors not leaving comments.
Okay off to check the dinner, hmmm smelling delish!!!
Hope you're having a great weekend!!
Hugs
Tracy