And boy are we feeling it, especially me LOL. We do have dial up for emergencies like this but it's not the same when you are trying to download or upload a kit, sigh!! But enough of the complaints on to the layouts.
Terrell has just released this new Kit named My Little Garden, and it is sooooo gorgeous!!
This first layout is of me now!! I have lost over 40 pounds and feeling so great for it that I thought some proof was required, only another 10 kg to go!!
Here's one of our wedding, I am loving this kit, so soft and feminine!!


Here's me and Gabriella this kit was just perfect for this photo!! Terrell is the Queen of Design LOL!!

This Autumn Nuptials layout is for an abc album of our wedding which is also a challenge over at mootwodesigns, the coralling your memories challenge hosted by TerrellS. Hint: She has an alpha up for you if you participate!!
B is for Bridesmaid, My friend Jo, she's awesome!!
C is for Congratulations, from our guests, the alpha in these layouts is the font Multu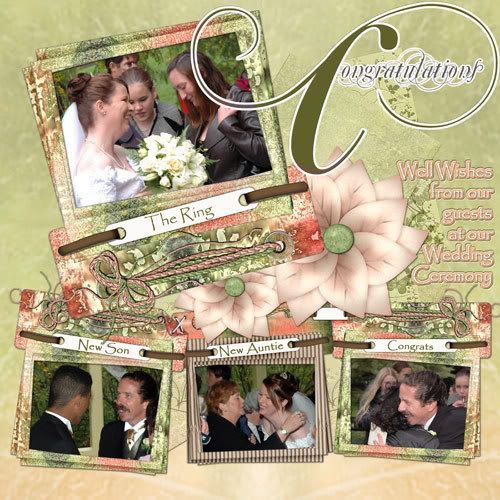 D is for Destiny, and dancing, that's what we are doing in these pics. Dancing to Nick Cave's "Into My Arms"...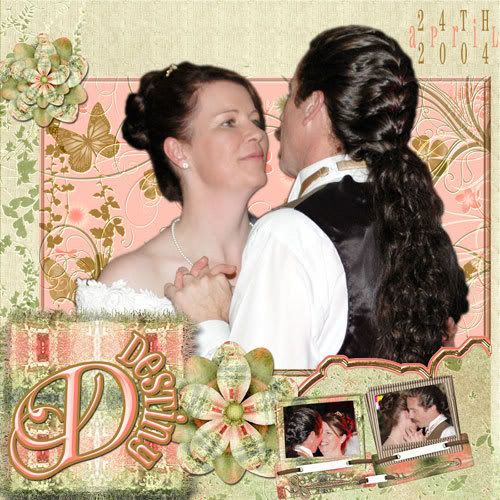 Okay so we have to wait till monday for the broadband to come back, if they fix it this time. We lost it last Sunday until Tuesday and then it dropped out last night so Who knows when we'll be back to normal. We are thinking about cable!!
Now if you are after some freebies head on over to Terrell's blog where she has some surprise downloads for you!! Unless you have already discovered them for yourselves LOL.
Okay well we didn't get pregnant this last IVF either but I do have some good news from Christopher, he got a new job with a government department, can't really say which one LOL, but it's really good news for the next 12 months at least. We are so proud of him!!
Okay well that's about it for now, have to go check out some blogs and stuff before I DISCONNECT, god, I'll have to remember to do that won't I LOL.
Have a great weekend and I'll catch you all later
Hugs
Tracy
XXX