Yay, I actually managed to get two layouts done today!! I didn't really think that I would get any done today but there you go LOL. I also got my hair cut into a bob just above my shoulders with a fringe!! Oh well something different, a change is as good as a holiday they say LOL. Michael is working an overtime shift at Rockdale tonight and so I guess he may be a little bored LOL. I hope he has a reasonable night anyway!! And Aimee is back staying with us, today she went off to see her friends from the tour and to have dinner with them, sort of like a bon-voyage party as a few of them are heading home tomorrow!! She may be late LOL!!
Anyway so I am all on my lonesome and therefore managed to get quite a bit done. I had Pita Pizza for dinner and it was yummo. I have put some Bircher mix in the fridge for in the morning to see if I like bircher muesli. I have some pear and sultanas and almonds to mix through it in the morning so I am hoping I have discovered a yummy healthy breaky, although it means if I want to have it I will have to remember to put it in the fridge the night before. But I guess it's also a way of making sure I have breaky. I also found out that if I exercise in the morning rather than later in the day, my motabolism will be quickened for the rest of the day so I think I will try that this week too. I can't complain, I did lose 1.1kg this week so it's not like I have hit a total plateau. I am in the jeans I bought for wearing to my hen's night 4 years ago so that's progress!!
Okay now here are the layouts, this first one is using Terrell Sanzone's Garden Stickers, the pic is of flowers my Brother gave me when we arrived in Brisbane, I think it's a first!!! LOL.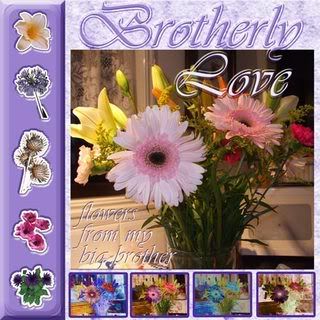 And this next one is just a cute photo I found on the web, no neither of these are Robbie LOL. The kit here is Patchwork Spring by Shannon Fahrnbach!! Loving the stitching in this kit!!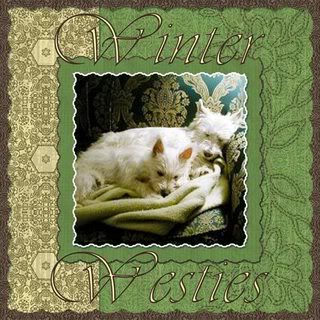 Okay so that's it for me, it's 11:45 and I will watch a bit more TV and then head off to bed, yawn!!!
Have a great day all