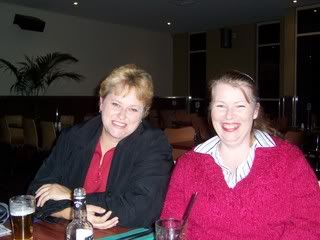 This is me and Dani, my friend that I hadn't seen in around 10 years. And she hasn't changed a bit. It's like we saw eachother a week ago and that's what makes a great friend, someone you can call once in a blue moon and know that they will be just the same person they were when you last saw them.
My Drive took me up the New England Highway and at the start of it, just outside Newcastle, I encountered this house being transported. There were heaps of us behind it doing around 50 kmh in a 100kmh zone. Even when it got to an overtaking lane we couldn't get past it because of it's width and bad visibility of oncoming traffic. Eventually it pulled across a little and we had a clear view of a long straight stretch of road with no oncoming traffic and we all took off past it! This took about 30 minutes!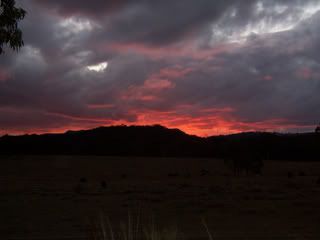 I'm pretty sure this shot I took around Guyra, which is between Tamworth and Glen
nnes.
I pulled over to the side of the road to take this gorgeous photo of the sunset.
Here is G playing her Violin for me, she played Mary Had a Little Lamb, and very well indeed. The pencils help her stay in the right spot with the bow. She is wearing her school Uniform.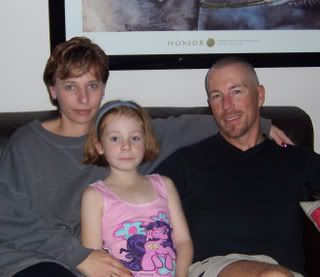 And here she is with her Mum and Dad. just before I left to go back to Ipswich.
Me and Scott, Dani's Brother, on the lounge at their place with Kitchie. Scott is a big Cronulla Sharks fan.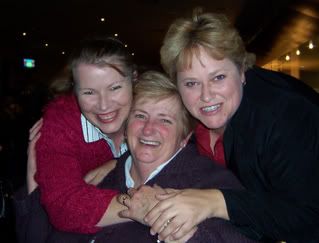 Us with Mum (Gai) My second Mum, she's such a treasure.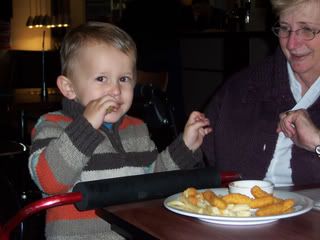 T Calls his Grandmother "Momma" He is sitting on her walking aid here to have his tea when we went out to dinner the night before I left. He's so cute and a real character like his Dad.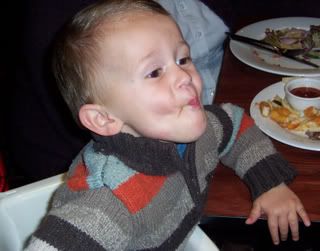 See What I mean!!!
And here's Dad playing with T's Trucks. LOL. They were all great and I enjoyed my stay very much.
At the last minute before I left Danielle's other Brother arrived with his two little ones. I was so glad because it allowed me to get this pic of them. They weren't well when I was there or they were over when I was away visiting Steven. Their Mum was "Ill" when I was there too, so they spent quite a bit of time at Momma's while Mummy rested...
Okay Kitchie just thought I was the Ant's Pants, I think it was because I would go outside for a ciggie and he could come too. He was always excited to see us. And it was so nice being able to watch tellie and pat him, I really miss that with our dogs.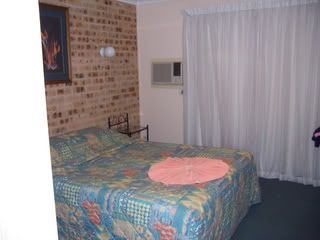 This is my Motel room at the place I stayed over at on my Drive home. Very reasonable price and everything I needed. Lucky to find anywhere with all the people stranded because of the flooding crisis, most places were full.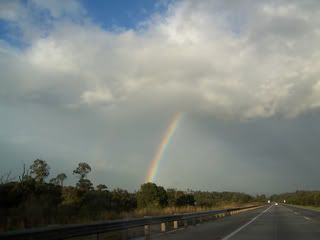 This one is the next day passing Newcastle, it's bypassed. I just had to take this pic, I was heading into the storm. But when I got to it it was just rain, no bad winds or that, so I was pleased. This is the new Pacific Highway (M1) not the Old one that collapsed, although the road was cracked a lot and there were signs saying there was subsidance on the shoulders and that they were not to be driven on. This didn't stop everyone though , there were two guys on the side of the road parked in their 4wd's just chatting on the side of the road. After a family of 5 was killed when the old Pacific Highway gave way from the flood damage and they fell in their car over 30 metres and were washed away to their deaths, I wasn't going to be driving on anything that was dodgy and definitely made me stick to stopping for the night. If I got tired and drove in the driving rain in the dark, I would never have seen any water across the road until I was in it. And people who don't dip their lights when they see yours, really peeve me off when I'm driving at night especially in the rain!!
So that was my trip and now I am home and catching up on everything, while M works.
Catch you all again soon.
Hugs
Tracy
xx