Well the CS4 is here YAY!!! And I have put it to good use with a new kit, I am uploading to my stores now. Tomorrow you will be able to get it at SAS, SFS and OSS, check my margin on the right at the top of the blog for the links to my stores if you feel like browsing.
So what's in it you say well here's a preview and a freebie quickpage to see how it looks in a layout I have also uploaded a layout using the quickpage too.

The new kit, here's the blurb I wrote for it so you can see what's coming...

Grab this beautiful kit in mulberry tones for your precious pages.
Included are 8 high resolution textured and patterned papers with some as png files
(so they are quite large due to the format) There are also 30 gorgeous elements and an Upper Case
Acrylic covered Alpha to Title your layouts with.

Includes:
8 High Res Papers, some as png's
Upper Case alpha (Acrylic covered)

Elements:
3 Ribbon Embroidery Flowers
3 Ribbon Bows
2 Ribbon Circles
1 knotted Tagged Ribbon with gold safety pin
1 Velvet Treasure Drawstring Bag
1 Chained Clip
2 Glitter Scatters
2 open o-ring bound book
1 o-ring bound note page
1 Scalloped and punched Round Mat
1 Scalloped round frame
1 Scalloped and embellished double round frame
1 plain patterned bullnose clip
1 embellished patterned bullnose clip
1 Sheet of Scalloped patterned vellum
1 round eyelet
1 Flower eyelet
1 Heart eyelet
3 Tags
1 Ribbon
1 Lace Border

Many of these elements were painstakingly extracted from actual items and are therefore very realistic.
All at 300 ppi or higher, all papers are 300ppi and 12x12 for optimum print quality

Grab it HERE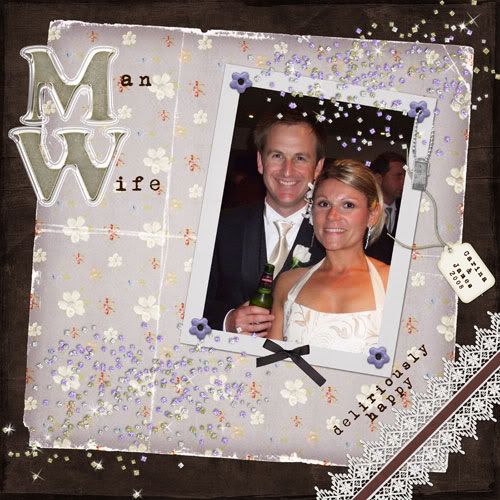 I have been super busy and even did some paper scrapping, well hybrid really. I scrapped my digi layouts into a bound book. So there's a pic or two of that too. It's my first so go easy on me LOL.
The outside of my US 8X8 Book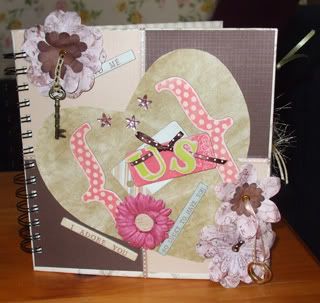 And the inside, these layouts were made with kits from Terrell Sanzone.

Okay Have a great week and remember to stop over at SFS for their Huge Party that is going on this week!!