There are now 29 kits last count at the Designer Competition so if you want them you better run not walk over to SAS Next Sassy Designer Gallery and grab them. The voting opens at 6pm US Central time Monday 8th September and closes at Midnight Thursday 11th September So in our time here in Australia that is 9am Tuesday and closing 3pm on Thursday 11th September. Gosh it's frustrating working it all out LOL. If in doubt check here http://www.timeanddate.com/worldclock/converter.html

Grab my kit and please VOTE for me, you can vote for more than one kit as long as you do it in one action, like select the ones you are voting for and then click the submit/vote button.


Okay Hope you will help us in our efforts to become the next Sassy Designer.
Here is another layout with my kit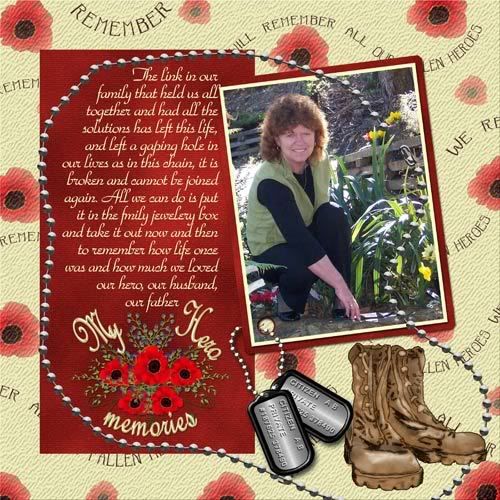 Okay Have fun downloading and Remember to make your vote count.
There are some awesome Kits in the gallery and just to help you vote here are the rules
Theme - Heroes
8-12 papers
8-12 Elements
at least 6 should be themed
Posted by voting time 6pm Monday 8th September US Central Time
Hopefully this will help you in your tough decision of who to vote for
Have a great week everyone
Hugs
Tracy